What does a cloud computingCloud computing is a method of delivering IT services where resources and data are retrieved from the Internet using web-based applications … platform have to do with the oil and gas industry?
The answer: mass data aggregation and accessibility.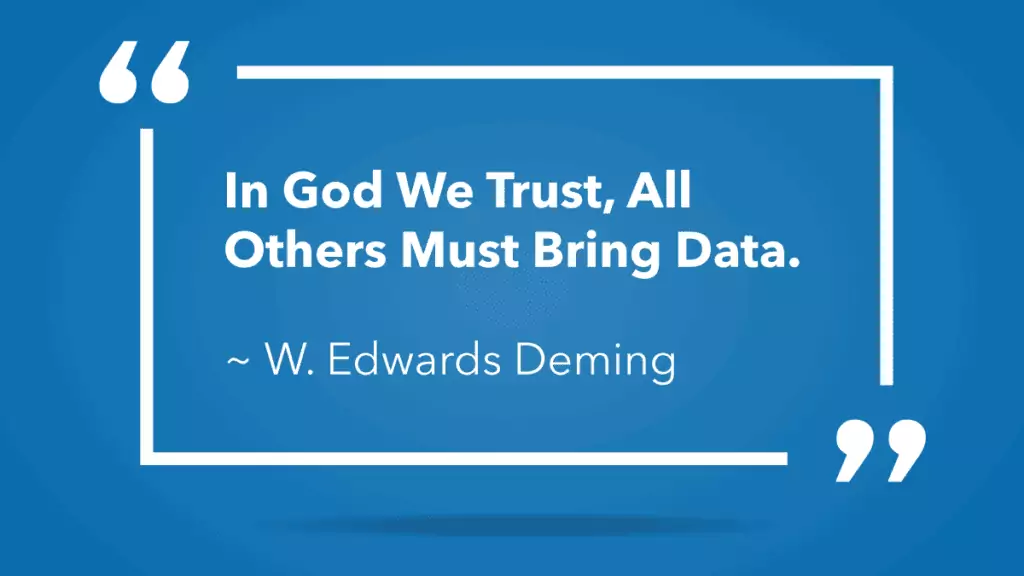 Digital Oilfield Outlook
The Digital Oilfield Outlook Report 2020 explores the state of the oil and gas sector's digital transformation. In what is perhaps the biggest indication of how the energy industry is trending, the Outlook Report is sponsored by Amazon Web Services (AWS), a cloud computing platform.
AWS likely sees the oil and gas industry as a relevant sponsorship opportunity because the Fourth Industrial Revolution – or Industry 4.0 – is in full swing, with digital transformation initiative spending in the trillions.
More than ever before, energy companies are looking to streamline their digital transformation. With so many new tech startups and fancy buzzwords floating around, knowing where to gain the greatest return on investment can be tricky.
Data has an important role to play.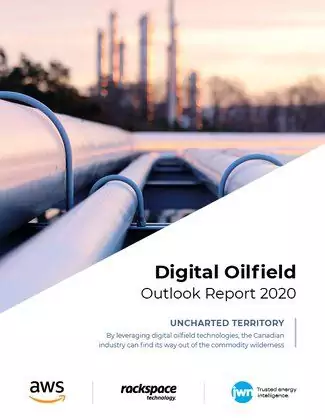 The Outlook Report includes the results of a survey of oil and gas professionals. The survey analyzed key challenges and opportunities for digital technology in oil and gas across 11 key applications.
Without going into each application, they all have to do with data, automation, and accessibility – core functions of a modern cloud computing platform.
Field Productivity
Field productivity was one application in the survey that respondents ranked near the top in terms of:
technological maturity
organizational readiness
overall attractiveness
The Outlook Report defined field productivity as…

Maximizing worker efficiency by providing wireless mobility that enables on-demand access to field data, engineering drawings and inventory and communications with centralized operations experts (e.g., field tablets and
digital twin
A digital twin is a precise, virtual representation of a physical object system, process, or asset. Digital twins integrate machine learnin…
,
augmented reality
augmented reality (AR) is the superimposition of digital data, usually an image, onto real-world objects to enhance the user's understandi…
).
This sounds great in theory and the technology exists to make it happen. After all, if field staff can stream a classic movie on their tablets at the site, it stands to reason that the datasheet, operating manual, and maintenance record for a pump installed years ago could be equally as accessible.
Few oil and gas companies are currently achieving this level of field productivity.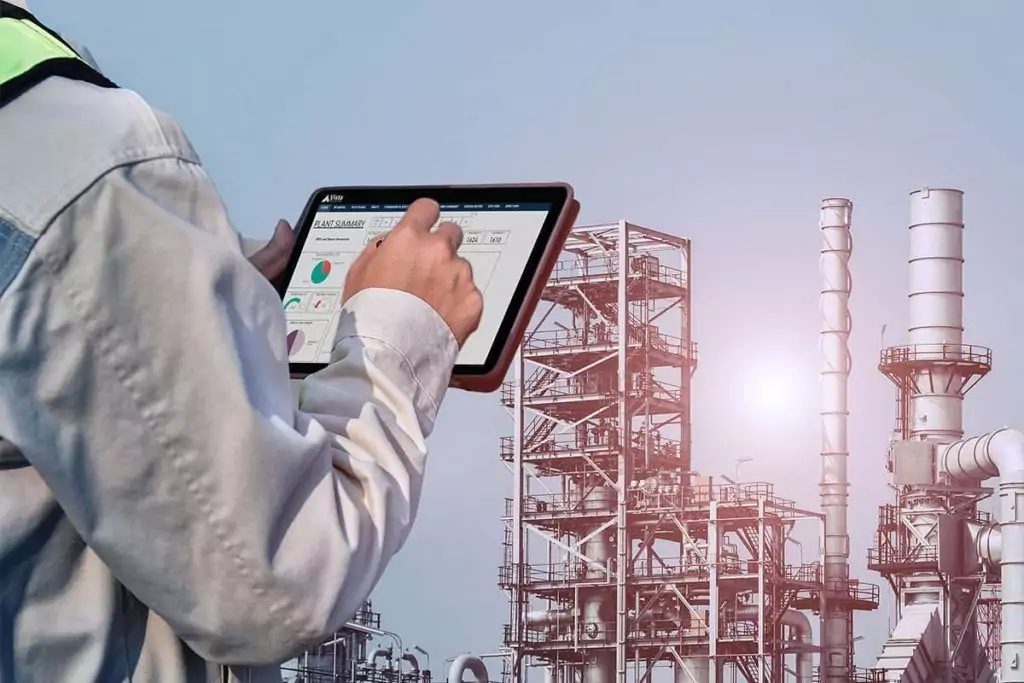 In many cases, the data systems weren't configured for operations; they were only designed to meet construction needs. But achieving the field productivity described above requires a data system that supports the long-term needs of operations and maintenance teams.
The reality is that even new facilities are designed in database silos. The handover process is often still paper or PDF-based, and the datasets lack the interconnectivity required to maximize field productivity throughout the asset's lifecycle.
What's missing is a single-source-of-truth environment that:
enables collaboration and transparency through the project execution phase
serves as the foundation for ongoing changes and maintenance
provides information access to a multitude of stakeholders for the facility's full lifecycle
A single data-centricA data-centric outlook is a core concept in digital project execution architecture where data is viewed as the most important and perpetual … system that connects all stakeholders via a cloud-based platform not only improves field productivity, it also lowers the asset's total cost of ownershipThe total cost of ownership refers to the total cost of owning an industrial asset throughout its full lifecycle, from design and construc… (TCO).
Biggest Impact for Technology
When asked which technology trend will have the greatest impact on the oil and gas industry over the next year, the top choices identified by survey respondents were:
Automation
Machine Learning
The Internet of Things (IoT)
All three technologies can work together to help asset owners efficiently access and process data to reduce operating costs.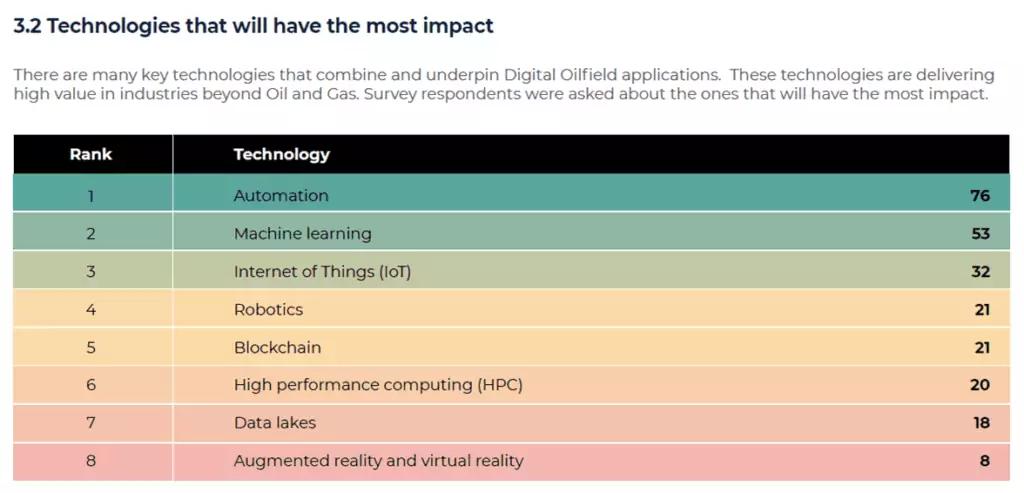 The Industrial IoT
The industrial IoT is about connecting individual digital components and datapoints to a shared cloud-hosted database. When properly implemented, these connected databases form a single source of truthSingle source of truth (SSOT) refers to the practice of structuring information models and associated data schema such that every data ele… (SSOT) about an asset.
The SSOT provides consistent and verifiable data that can be accessed from any internet-enabled device. At Vista Projects,  staff members can access the technical data portalA technical data portal (also known as digital project hub) is a web-based application that allows users to organize, validate and collabo… from a desktop, a laptop, a Microsoft Surface Pro, and more.
The 3D model and all associated 1D and 2D assets are available in a few simple mouse clicks.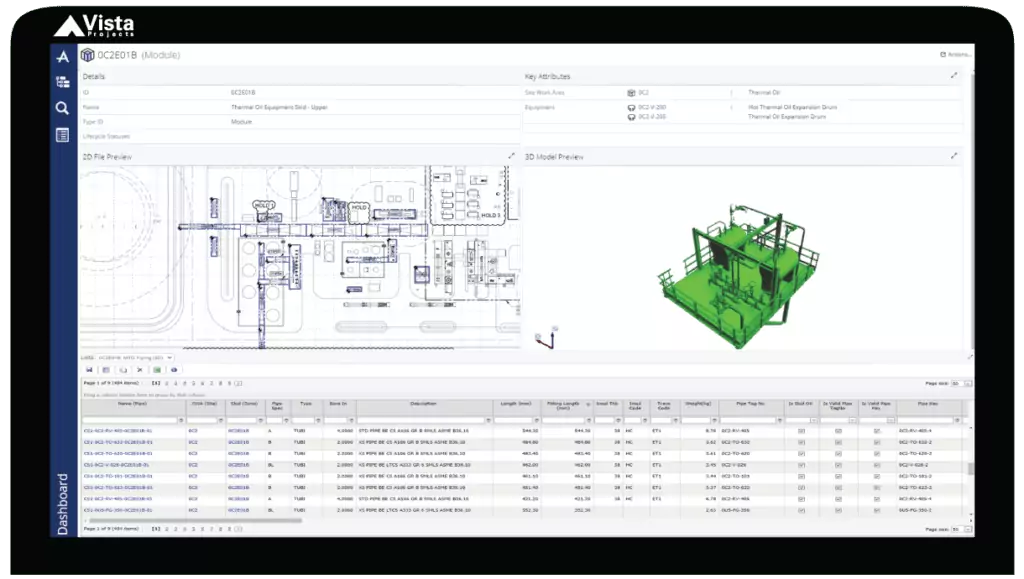 With all asset data organized and easily accessible, there are a variety of ways to optimize operations and improve field productivity, including automation and machine learning.
Automation
Automation is about automating processes to improve data consistency and quality. This is especially true when generating reports or completing other repeatable tasks. However, opportunities for industrial automation require an active SSOT.
At Vista, we implement an SSOT from the onset of engineering. The automated data aggregation eliminates manual reports and creates a real-time view of variables like piping or steel quantities as the design develops. This automation also frees up staff to focus on higher value tasks.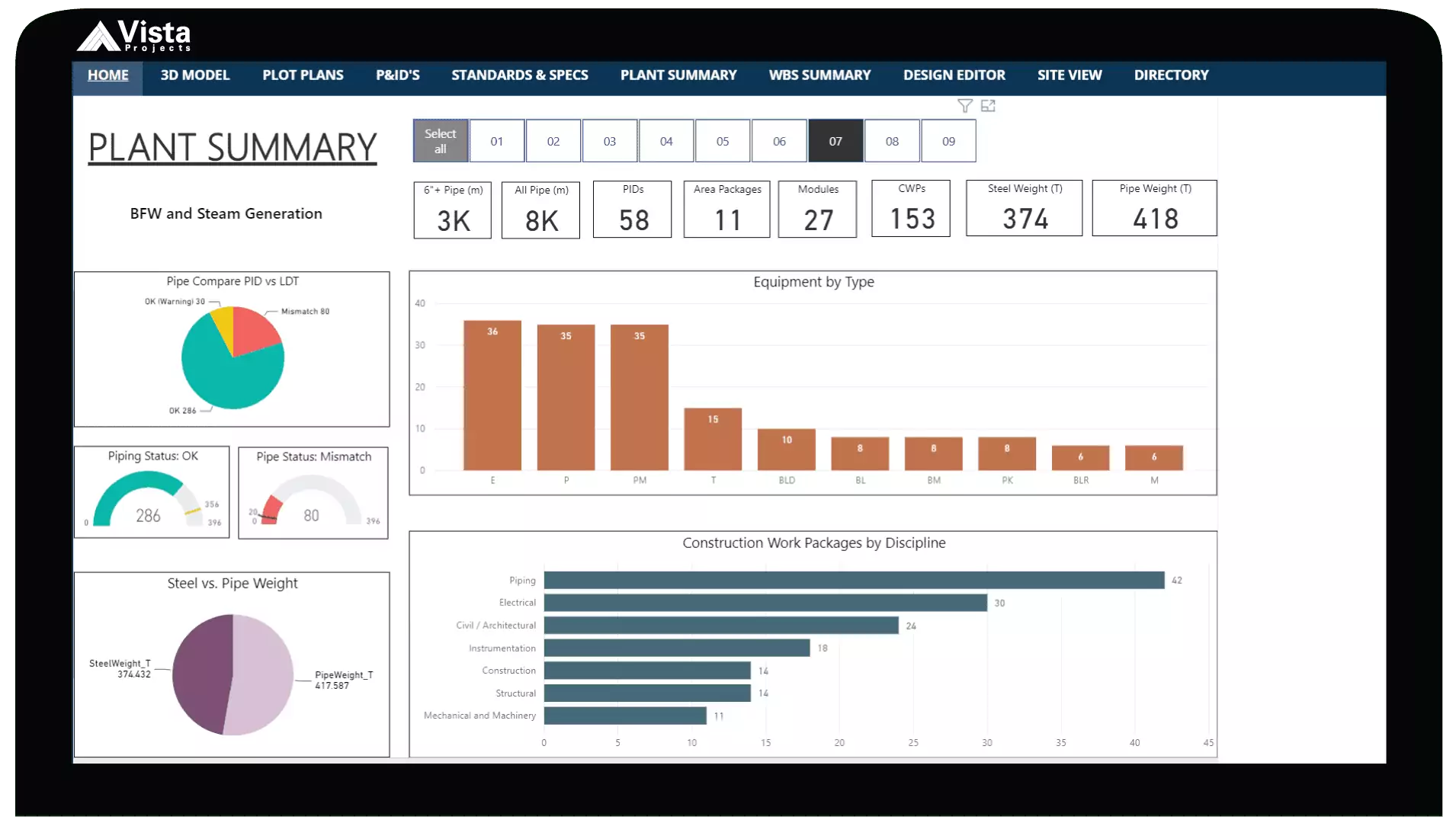 The dynamic view of the digital asset carries forward through construction, commissioning, and into operations.
The potential to improve field productivity is huge.
Imagine a management of change (MOC) program for an upstream brownfield facility where field staff have instant access to the asset's entire historical database.
Likewise, the engineering team back at head office can pull up everything it needs to know about the current state of the asset's field operations to ensure a high-quality modification design.
Data automation centralized in an SSOT gives team members on-demand access to current and verifiable information. This increases transparency, collaboration, and quality, resulting in a more productive team making decisions based on real-time data.
Machine Learning
Machine learning (ML) is about computer algorithms studying the interconnectivity of datasets to improve automatically through experience. In the oil and gas sector, ML use cases include:
predictive maintenance
clash detection and accurate modelling
data extraction
attribute and descriptor identification
inventory management
optimizing drilling operations
The list could go on. But again, ML can only function if the datasets that the algorithm is programmed to study are consistently aggregated and connected within an SSOT.
Experienced Solution Provider
When it comes to digital transformation, there is a lot on the line and few organizations can afford to get it wrong.
A fit-for-purpose implementation could easily lead to millions of dollars in cost reductions. But investing in the wrong technology or failing to get proper buy-in from staff can be a fast-track to failure.
Vista is an integrated industrial engineering consultancy with over 35 years of experience in the EPCM sector. For the last 7 years, we've been on our own digital transformation journey, helping clients integrate cloud-based systems, refine data architecture strategies, and navigate the complexities of Industry 4.0.
Along the way, we've automated our own processes, built customized software, and trained our workforce to make the most of technology.
Intro to Digitally Enabled & Data-Centric Engineering
System Integration Case Studies
Single Source of Truth-Based Approach
Our
truth-based approach
is a proven project execution model that simplifies the digital transformation of industrial assets by centralizing data in a single-source-of-truth environment. With on-demand access to authoritative data, your operations and project teams can improve field productivity by:
more informed decisions
shortening schedules
increasing efficiency
avoiding rework
enhancing quality tasks
At the core of our approach is a
technical data portal
that provides an SSOT to all project stakeholders through a user-friendly interface. Contact Vista Projects today to book a demo and discuss a customized solution with our System Integration team.
Systems Integration Inquiry