Digital execution architecture represents a new paradigm for industrial energy markets. Developed as a solution to the limitations of the traditional project execution model, the digital execution architecture approach is comprised of three key components:
a technical data hub or portal
The oil and gas sector is, by nature, an industry of innovation. Innovation has been at the forefront of exploration for hydrocarbons in challenging and remote locations and in the application of new technologies to improve the environmental performance of facilities and to lower the costs per barrel of oil produced.
But the industry has been slow to grasp the merits of changing the way capital projects are executed and assets are managed throughout their operational lifespan.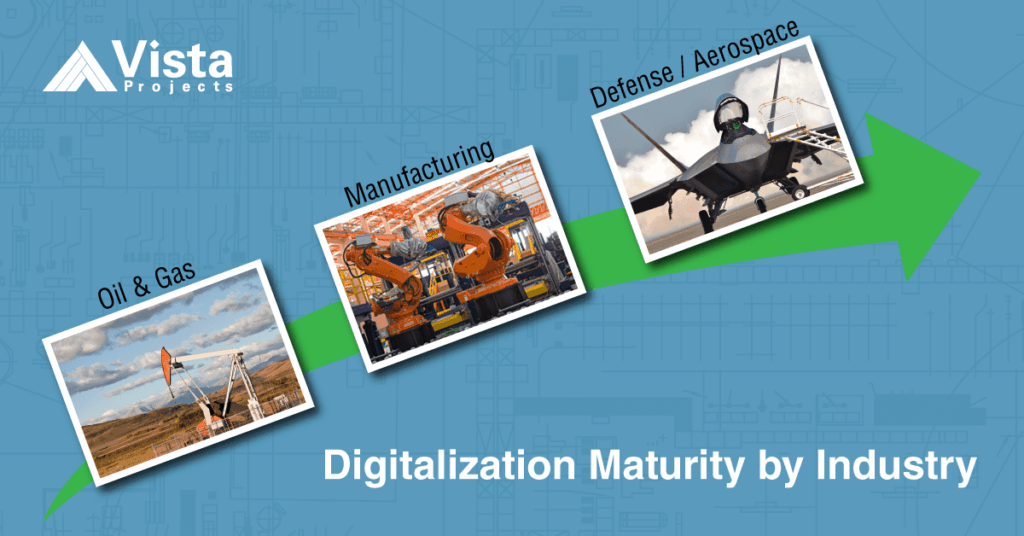 Traditional Approach
The traditional project execution model or paradigm currently in use has limitations and is poorly equipped to handle the complexities of implementing capital projects in today's increasingly cost-conscious environment. The traditional model involves data distributed across multiple systems, with each system having its own unique data format, across multiple teams and locations.
These disparate data sources, or silos, are barriers to information flowing between project participants, resulting in a reliance on spreadsheets as a data gathering or analysis tool. Compiling data and entering it into spreadsheets takes time, leads to mistakes, and is not an effective way to understand how a project is performing.
The traditional execution model can lead to cost and schedule overages. There are many examples of capital projects taking longer than expected to complete at a higher than expected cost.
The Digital Execution Architecture Approach
Compared with the traditional model, digital execution architecture has the ability to shorten the project timeline and reduce the cost of engineering work. There are many examples of the benefits the digital execution architecture model provides.
A paradigm change is disruptive and causes a business to redefine how it works so that it delivers a positive customer experience. Digital solutions will change operational standards and streamline project delivery.
Digital execution architecture is not a one-off proposition. Once in place, it can be used to provide benefits to any customer looking for world-class project execution.
Furthermore, new applications and technologies can be incorporated into the execution architecture to enhance its value.
The Core of the Architecture
The technical data hub and the single data model (i.e. the single source of truthSingle source of truth (SSOT) refers to the practice of structuring information models and associated data schema such that every data ele...) are the core of digital execution architecture. Without these two essential unifying elements, the various information systems would be nothing but a collection of information silos, which describes the traditional execution model.
The single data model is vital to providing project participants with one set of data to describe the various aspects of the project. This single source of truth is essential in maintaining data integrity and a key component of a data-centric approach.
Data modelling is an activity that is specific to each business because the model's structure and contents must reflect the needs of that business.
The technical data hub is a secure web-based application that allows project participants access to information from the various information systems and the single data source. The hub gathers information and is the single access point for all project participants and stakeholders to get project data and documents easily and quickly. The data hub helps project participants understand the digital asset and includes such features as:
automatically extracting data and maintaining relationships like tag-to-tag, tag-to-document, and document-to-document
viewing, navigating, and interrogating engineering documents
determining completeness, consistency, and compliance of the digital asset
Project Disciplines and Their Information Systems
Software applications are not new or unique to the digital execution architecture, as they are part of the traditional execution model. These applications form the digital engineering environment at the start of the project and are necessary for the many project disciplines to do their work.
Engineers need a CAD system to make a design, project controls need a scheduling system to make a project schedule, and construction needs a completions system to verify the installation for handover.
What is different in the digital execution architecture is how data is stored and shared among these applications and the high degree of integration among these information systems, which eliminates the silo effect.
Digital execution architecture makes it easier to unlock the full potential of new digital technologies, such as augmented realityaugmented reality (AR) is the superimposition of digital data, usually an image, onto real-world objects to enhance the user's understandi..., in the design and construction of a capital project. These new technologies can be fully integrated with other systems and no longer exist as stand-alone systems.
Engineering Authoring Applications
Familiar authoring applications remain unchanged, easing adoption by designers and multi-discipline engineers. These applications can be part of an integrated suite of products to maximize information sharing and efficiency. These applications can be grouped into three categories:
engineering standards and catalogue management

Catalogue management can form the basis for e-marketplace, e-procurement, supply chain management, and enterprise resource planning (ERP) in...

– applications to define class libraries and impose consistent and compliant information standards
engineering and design – applications for process, electrical and instrumentation design and applications for creating drawings and piping and instrument diagrams
engineering analysis – applications for process simulation, life cycle simulation and evaluating economic and energy considerations for design choices
Document Control
Web-based applications are used by the document control team to store and control project documentation from both internal and external sources. These applications include such features as:
defining document work processes and review teams
distributing documents to reviewers, regardless of their physical location
monitoring review progress
issuing bid packages
Scheduling, Estimating, and Cost Control
The scheduling function uses proven project management applications to create, define, and manage the project schedule. A scheduling application might have limited integration with other applications in the architecture.
Estimating and cost control applications are specifically designed for project planning and cost control. These web-based applications are integrated with other applications to obtain correct and up-to-date information for costing. These applications track and report actual expenditures, as well as the costing of change orders.
Procurement and Contract Management
Procurement applications are specifically designed for purchasing on capital projects. These applications include such features as:
linkage to the work breakdown structure and accounting cost codes, to ensure accurate project reporting
access to the latest equipment lists, specifications, and data sheets to ensure the right materials and equipment are purchased
requisitions, purchase orders, requests for quote or proposal, and bid management, expediting, and receiving
integration with estimating
Contract management applications are used to ensure that contracting best practices are used on the project and procurement complies with using existing framework agreements.
These applications can also be used to manage contract obligations. For example, sending the contractor an automatic reminder to take action by a specific date in accordance with a specific contract condition.
Vendor Data Management
All consumers of vendor data need to find correct and current documents. These applications include such features as:
establishing vendor information requirements and making them available to all project participants
a single repository of vendor information
automating validation of vendor information metadata and of information content against engineering documents
Materials Management
These web-based applications use mobile devices, as well as smart radio frequency identification (RFID) tags and barcodes to track the receipt of project materials. These applications include such features as:
real-time collection of digitized materials data at the point of transaction (e.g. receipt at the site or issued to construction)
traceability of the material's location on the project site (e.g. the laydown yard or warehouse)
mobile tracking and querying capability by scanning materials
record preservation and maintenance requirements for each material
ability to identify readiness of materials for issuance to construction (i.e. Are all the needed materials on site and ready to go for the time they are required?)
Execution Verification
These applications are used to create a digital twinA digital twin is a precise, virtual representation of a physical object system, process, or asset. Digital twins integrate machine learnin... of the asset. The value of the digital twin is that it allows for the identification of issues that could arise in the real world and provides solutions before delays and costs are incurred to fix these issues in the field.
These technologies use actual data about the project site to compare the project design to and predict issues. These applications can be used for both greenfield and brownfield sites, but are particularly useful at predicting issues for brownfield applications, with their many existing constraints.
Commissioning and Completions
These applications are used to consolidate asset information to verify the installation, testing, and performance of all equipment, instruments, piping, and control system input/output points. The applications are designed to ensure system integrity and to deliver a facility that meets input specifications and standards. These applications are able to:
identify, assign, and track completion of project tasks, including information on equipment, tools, and consumables
identify how and when equipment, systems, and processes will be transferred between construction, commissioning, and operations
verify that goods and services supplied compliance with industry standards and specifications
sort and filter data to identify punch-list items
Operations and Maintenance
Early involvement by operations and maintenance teams is the best practice for project development. As project participants, these teams can provide valuable input to the asset's design that will enhance its performance during operations. But, more importantly, accurate asset data can be transferred from the project to the various operations and maintenance applications to provide high-quality data and a single source of truth for the operations phase.
Similar to the execution phase of an asset's life, a digital architecture approach to managing the asset during operations can provide significant benefits to an owner-operator.
Contact Vista About Digital Execution Architecture