Over the last decade, large energy projects have faced significant obstacles to their productivity, sustainability, and competitiveness. Many organizations in the industry have begun to re-think their project strategies to remain competitive.
Today, owners of large energy projects should embrace – and enhance – their digital-first strategies to excel in the face of increasing pressure. Digital engineering, sometimes called "digital twinning," is one of the critical methodologies that is becoming a game-changer for some engineers in the industry – a great resource for all.
The following is a breakdown of everything you need to know about Digital Engineering.
Defining Digital Engineering
Digital engineering describes a complete approach to the design of a complex system: design using computer models and data instead of documents; integration of data across models; and the culture change across project teams to realize significant risk reduction on construction cost and schedule.
In today's world, large industrial projects represent the sort of ambitious efforts that can change the world: enhanced sources of energy/energy extraction and use; improvements in aviation; integrated defense systems and networks, etc. The benefits of such projects are enormous, but the challenges can be daunting.
Primary concerns are cost and schedule overruns. Undetected design errors can cascade into construction woes that can put a project over budget or behind schedule. Robust digital engineering helps prevent such issues. By coordinating design, engineering, and construction, the approach keeps cost and schedule on track while dramatically reducing overall program risk.
Digital engineering is a deliberate approach to integrating information for the life cycle of a large energy project. The technique uses digital information management systems to design, engineer, build, operate, and maintain complex energy projects. This technique essentially takes project data embedded in disparate areas and centralizes that data to enhance project success.
Engineers can migrate to new digital engineering systems by developing new data models, data-sharing methods, data delivery networks, tool architectures, and processes.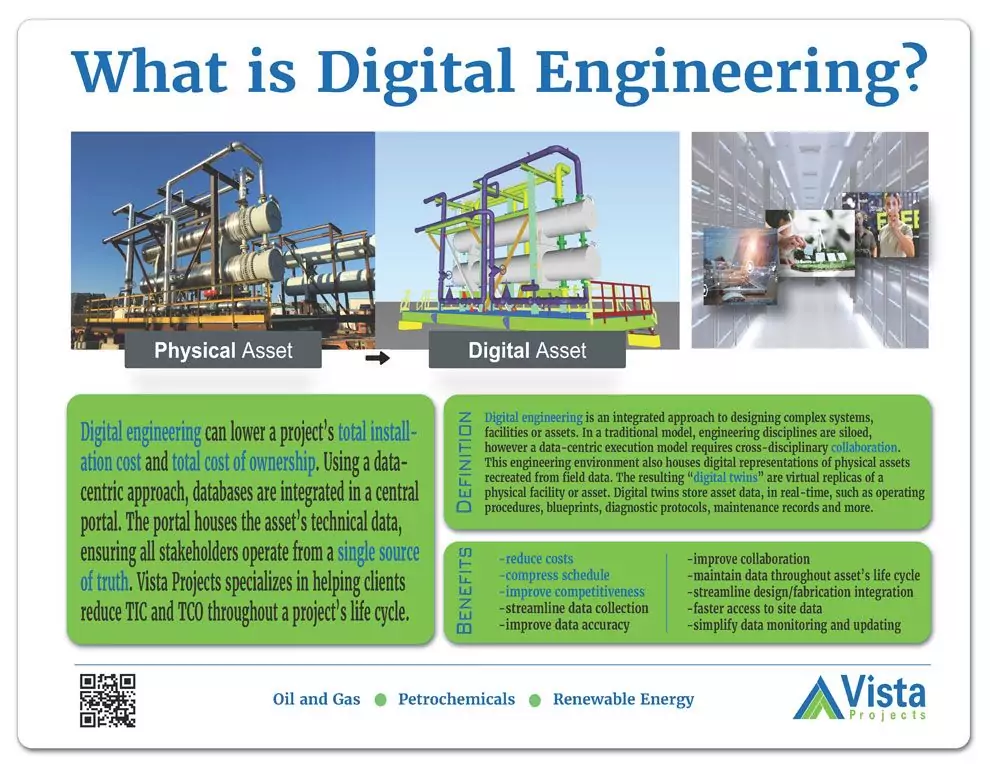 Digital Twins
A digital twinA digital twin is a precise, virtual representation of a physical object system, process, or asset. Digital twins integrate machine learnin... is a digital representation of a real-world physical product, system, or process (a physical twin) that serves as its indistinguishable digital counterpart for practical purposes, such as simulation, integration, testing, monitoring, and maintenance. The digital twin is intended to be the underlying premise for Product Lifecycle Management approaches and exists throughout the entire lifecycle (create, build, operate/support, and dispose) of the physical entity it represents.
Since information is granular, the digital twin representation is determined by the value-based use cases it is created to implement. The digital twin can and does often exist before there is a physical entity. The use of a digital twin in the creation phase allows the intended entity's entire lifecycle to be modeled and simulated. A digital twin of an existing entity may be used in real time and regularly synchronized with the corresponding physical system.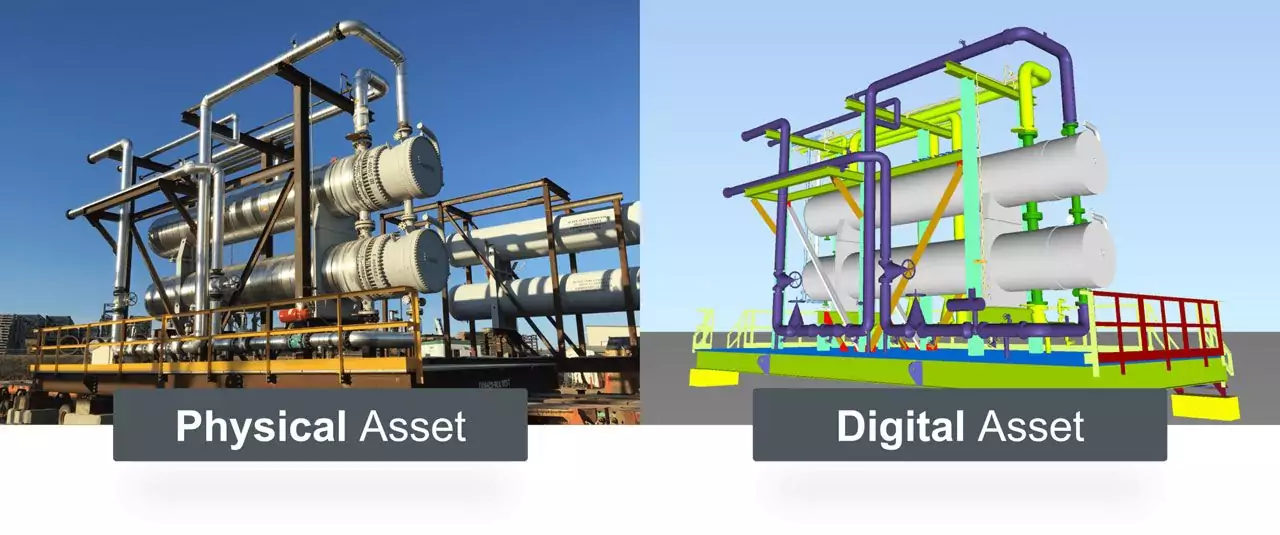 Digital twins are virtual replicas of your physical plant. They are the digital (versus analog) representations of the tangible infrastructure that keep your operations running. They collect and store all crucial data about an asset, like operating procedures, blueprints, diagnostic protocols, maintenance records, and more, on the cloud for simple access and updating.
After a digital twin of an asset has been produced, a client, investor, employee, or another stakeholder with access can pull it up on an authorized computer (using the appropriate hardware and software) and learn everything about it.
Currently, most of the digital twinning in the energy industry is centered on developing platforms and other similar projects, with data from current and future installations being added into the systems.
Single Source of Truth
Single source of truth (SSOT) refers to the practice of structuring information models and associated data schema such that every data element is stored exactly once. Linkages to this data element are by reference only. Because all other locations of the data just reference back to the primary "source of truth" location. Any updates to the data element in the primary location propagate to the entire system without the possibility of a duplicate value somewhere being forgotten.
An SSOT functions as a centralized location for all your information. Implementing an SSOT model is not simply about a tool or data architecture strategy; instead, businesses need to commit to a mindset.
The companies that succeed at this are able to use a single source of truthSingle source of truth (SSOT) refers to the practice of structuring information models and associated data schema such that every data ele... to keep decision-makers and business leaders on the same page while reducing the odds of unwanted overlap and duplication. It is a real competitive advantage.
Defining Single Source of Truth
SSOT is a concept that ensures everyone in an organization bases business decisions on the same data.
Implementing SSOT eliminates the issue of debating which data sources to use, as everyone can use the same unified source for all their data needs.
SSOT provides data that can be used by anyone, in any way, across the entire organization.
To implement SSOT, organizations need to work with senior business leaders to establish the best source of information and get buy-in from participants.
Collecting high-quality data and filtering and storing all SSOT data on one accessible platform are crucial steps in implementing SSOT.
Benefits of a Single Source of Truth
The benefits of implementing SSOT include eliminating duplicate entries of data, providing decision-makers with the right data at the right time, reducing time spent on identifying correct data and improving the data intelligence capabilities of the company.
With faster and more timely decision-making based on accepted data points, companies can implement new strategies more effectively.
To use an analogy, a single source of the truth structure empowers business solutions in the same way that gasoline powers a car. Pure fuel keeps the vehicle running smoothly while maximizing efficiency and minimizing engine wear. Subpar gasoline clogs fuel injectors and restricts the intake valve, leaving you with a rough driving experience.
The same theory can apply to organizations and the development of large-scale industrial assets. Subpar data going in will lead to subpar decisions.
An SSOT guides robust data management and strategic intelligence applications. When everyone is working from an SSOT, data sources are kept up-to-date and relevant to business decisions.
Other material benefits include:
No duplicate data entries or version control issues
Timely data values at the right moment
Reduced time spent validating records and data types
Improved data warehouse and intelligence
Improved communication and productivity
An authoritative source of truth is critical when a decision-maker needs to address a problem. Data accuracy is an important principle, whether dictating a company-wide policy or department-based procedures.
When a company can trust its information architecture, everyone can look to one place to produce business intelligence reports. People can spend less time preparing data and more time analyzing data.
Benefits of a Data-Centric Approach
Single Source of Truth – A single data model is used by all project personnel and information systems, from engineering and construction through operations and decommissioning.
No More Information Silos – Using a single, project-wide data source eliminates information silos created by systems and their attendant data sources and structures, thus eliminating multiple instances of data.
Improved Data Accuracy – Because there is only one instance of data in a data-centricA data-centric outlook is a core concept in digital project execution architecture where data is viewed as the most important and perpetual ... environment, as data is created or changed, it is made available to all connected information systems, ensuring the accuracy of the data is very high.
More Informed Decisions – The value of the single source of truth is significant, as it provides decision-makers with the most accurate and timely data on which to act.
Higher Value Work – With all information systems connected to a centralized data portal, project personnel spend significantly less time on rote tasks and are empowered to focus on higher-value work.
Operational Efficiencies – Managing a project or operating a facility in real-time via the technical data portalA technical data portal (also known as digital project hub) is a web-based application that allows users to organize, validate and collabo... eliminates the need for many document-based deliverables and improves efficiency across disciplines.
Optimized Design – A data-centric environment streamlines development workflow. This facilitates more engineering cycles and leads to optimized design solutions.
True Transparency – With all project proponents working in the same technical data portal, the owner/operator has full visibility into how work is progressing.
Increased Collaboration – Data-centric environments foster near-live design iterations, in which project personnel can collaborate with other disciplines or groups throughout the development process.
Reduced Handover Costs – A data-centric approach reduces document-based deliverables and simplifies the process of transitioning the project between major phases. For example, the construction contractor can digitally access all engineering information in the data portal.
How to create a Single Source of Truth
A successful single source of truth starts with buy-in from organizational leaders. Even the most well-structured SSOT will fail without their support. Buy-in can take time, but it is key to implementing a universal data management technique.
With an agreed-upon structure in place, an organization can then shift its priorities to collecting accurate information. Managers should set up regular checks of the data portal to vet sources and maintain the integrity of the data model. They should take care to perform regular data updates and ensure the information maintains its timeliness, consistency, and relevance. Allowing multiple checkpoints will help minimize overlaps and duplication.
Then information, such as metadata or computer documents and reports, can be extracted from the data portal without worrying about extraneous or inaccurate data elements. Team members have the ability to filter and store that data.
While a single source of truth should help eliminate silos and put everyone on the same page, that final step is not automatic. As with any software tools, project stakeholders still need to understand the data and what it really means.
But with instant on-demand access to trustworthy and verifiable data, everyone's job becomes a little easier. Their decisions are based on truth; transparency and work quality improve.
Digital Engineering Environments
A digital engineering environment is the part of a digital project hub that encompasses the various software applications required for engineering teams to complete their work in the most effective manner possible – benefiting everyone.
Data Accessibility, Accuracy and Security
These days, everyone wants to reduce project costs. At Vista, our approach is simple: cost reduction requires accurate information. There is no way around it.
In fact, our experience shows a direct relationship between data accuracy and cost reduction: as project data improves, the likelihood of reducing project costs increases.
One method of improving data is to execute projects in a fully integrated digital environment. That might sound complicated, but all it really means is we make it easy for people to save their work in a centralized online location that everyone else can securely access in a timely manner from anywhere with an internet connection.
Rather than storing documents in a cumbersome document control system, a digital engineering environmentA digital engineering environment is the part of a digital project hub that encompasses the various software applications required for engi... provides a 3D model fully integrated with smart P&IDs and PFDs linked to every piece of facility data down to the construction work package. And it can be maintained throughout the facility's lifecycle. This streamlines everyone's job, whether you're an owner looking for audit information, a project manager needing a status update or an operations team member hunting for a datasheet.
We've found that having access to accurate information makes everyone more efficient, compresses schedules and leads to substantial cost reduction.
Benefits of Digital Engineering
Digital engineering has multiple benefits to clients and service providers alike. Vista Projects specializes in helping clients reduce TIC and TCO throughout a project's lifecycle using digital engineering techniques.
Cost Reduction
Data-centric execution architecture can have many benefits for an industrial facility's total installation costThe total installed cost refers to the final cost of designing, fabricating and building a capital project or industrial asset. Various phas... (TIC) and total cost of ownershipThe total cost of ownership refers to the total cost of owning an industrial asset throughout its full lifecycle, from design and construc... (TCO). A data-centric approach connects relevant databases in a technical data portal. The centralized portal houses the asset's intelligent data, ensuring all stakeholders operate from a single source of truth.
TIC and TCO reductions are maximized when this approach to intelligent data is adopted during engineering, at the start of a project's life cycle.
Digital engineering environments present various opportunities to reduce project costs, and they all relate to enhanced system integration. When everyone has real-time access to the work produced by others, they execute day-to-day tasks more efficiently and make decisions based on more accurate information. We've identified the following main cost-reduction areas for a greenfield facility project:
Increased data accuracy and security
Improved client collaboration
Enhanced cross-function integration
Reduced handover costs
Streamlined design and fabrication integration
Data Integration Improvements
A key to successfully executing a project digitally having a proper execution system architecture, including its online document management software. The architecture incorporates all of the project's required internal tools and a variety of third-party vendor applications.
When correctly set up, the system architecture seamlessly integrates vendor data, which supports a variety of industry-standard file formats and data structures.
Stakeholders at all project phases benefit from this integration. Early advantages include access to design information as it progresses, and a convenient "one-stop shop" for all project deliverables. Value is added during execution and construction phases by making comprehensive, reliable information available in the field. Operations and maintenance also benefit from improved as-built drawings, simplified monitoring, faster access to site data and innumerable other impacts.
Compressed Engineering Schedule
A digital engineering environment seamlessly enables an integrated engineeringThe process of integrated engineering involves multiple engineering disciplines working in conjunction with other project disciplines to e... approach in which engineering disciplines overlap their work and compress schedules.
Integrated Engineering Workflow
Vista takes an "agnostic" approach to technology, which means we evaluate all options and move forward with the one that best fits the client's and the project's needs.
The diagram below shows a complete integration using the AVEVA platform. AVEVA NET Dashboard is information management software used for visualizing and linking data and documents.
The platform consolidates project data from multiple sources and makes it available in a common location. The system also performs validation, comparison, business logic checking and similar functions.
The data available in AVEVA is near-live. The platform cross-references and links all related data items the moment data it's uploaded, based on the project configuration. AVEVA maintains system, subsystem and tag relationships in line with system boundary drawings.
Digital Engineering Framework
A digital engineering framework brings together various project disciplines from across the project lifecycle, to establish a consistent, structured and repeatable approach to the way data is created, distributed and maintained.
Digital Twins
By creating digital replicas of physical assets, stakeholders can gain a comprehensive understanding of the design process. This enables them to visualize and interact with the models in virtual environments, leading to more informed decision-making and efficient stakeholder consultation. Additionally, the use of various types of modeling allows for a better understanding of how the design will evolve over time, facilitating speedy approval cycles.
Procurement
The procurement objective focuses on establishing a scalable process for acquiring resources and services required for digital engineering projects. This includes providing technical support and developing a legal-commercial framework specifically tailored for digital engineering. By streamlining the procurement process, organizations can ensure that they have access to the necessary expertise during project launches. Furthermore, an optimized procurement strategy enables a better tender process, resulting in efficient tender assessment and smoother project starts.
Workflow
The workflow objective aims to define technical standards and guides for digital engineering. This involves creating high-quality models and 3D visuals while ensuring a seamless handover of digital assets. By establishing standardized deliverables, organizations can achieve consistent quality across projects. This leads to informed decision-making based on reliable futuristic data and enhanced insights. Moreover, a well-defined workflow facilitates a smooth transition from design to operations/maintenance, improving overall project efficiency.
Technology
The technology objective focuses on enhancing accessibility to digital engineering data by enabling mobile accessibility. It also involves generating bulk 3D production drawings and implementing supportive IT platforms for data storage and exchange. By ensuring mobile accessibility to data, organizations can expedite setup and approvals for new projects. The availability of bulk 3D production drawings streamlines manufacturing processes. Additionally, supportive IT platforms provide a common environment for data storage and exchange, enabling multiple teams to securely access and collaborate on project data. This results in better internal systems and project outcomes.
Talent
The talent objective emphasizes the acquisition of specialized and trained resources for digital engineering frameworks. It also involves developing new skills and tools for procurement, project management, design, and reviews. By investing in talent development, organizations can build a team with the necessary expertise to effectively implement digital engineering practices. This leads to better project results, efficient data processing, and improved internal systems. Additionally, the development of new skills and tools enhances the organization's capabilities in areas such as procurement, project management, design, and reviews.
Digital Engineering Impacts and Energy Markets Served
Digital engineering can help employees work in new, faster, and productive ways. Innovative techniques like digital twinning, artificial intelligence, etc. can pave a path to enhanced project outcomes and even greater competitive advantages for some.
The notion of using the virtual world to "test" new ideas, techniques, etc. is a lower-risk option than simply applying those techniques in the real world. The openness, enhanced creativity and collaboration inherent in digital engineering environments has also had a tremendous impact in the industrial markets including energy.
For example, digital engineering can combine techniques and procedures from multiple engineering disciplines to reflect real-world operations and, specifically, the environmental and industrial stresses that impact the project over time.
Digital engineering is an integrated approach to designing complex systems, facilities or assets. In a traditional model, engineering disciplines are siloed, however a data-centric execution model requires cross-disciplinary collaboration.
This innovative approach to engineering is applicable in a multitude of markets including:
Medical manufacturing
New hospitals
Connected healthcare systems
Non-traditional energy industry
This cross-disciplinary approach is applicable to many energy-specific markets as listed below.
Enhanced oil recovery
Water treatment
Industrial cogeneration
Gas processing
Well pads and pipelines
Conventional heavy oil
Oil and gas midstream infrastructure
Refinery plan design
Biofuels engineering
Mineral processing plant design
Petrochemical Processing