New oil sands technology using solvents injected with steam into bitumen reservoirs can improve the economics of Alberta's oil production, reports a story in the Financial Post. Major oil sands companies are exploring ways to use chemical solvents to produce more oil while using less water and creating fewer emissions. The new process, known as solvent-assisted steam-assisted gravity drainage (SA-SAGD), will also help producers to lessen the environmental impacts of their operations.
Oil Sands Technology Evolving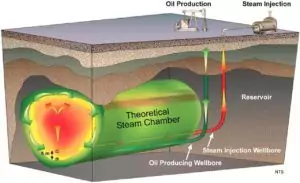 The SA-SAGD process builds on the predominant oil sands production process, SAGD. The SAGD process injects high-pressure steam into bitumen deposits. The steam melts the bitumen so it can be pumped to the surface using conventional wells.
Adding solvents to the steam reduces the amount of water needed. This in turn reduces the emissions involved with generating steam. Imperial Oil's vice president of upstream engineering, Rick Gallant, expects SA-SAGD to reduce both water use and greenhouse gas emissions per barrel by 25%.
Imperial is currently holding public consultations regarding their Cold Lake Expansion Project which will use SA-SAGD technologies.
Vista Projects – SA-SAGD Experts
Vista Projects has an extensive portfolio of both conventional SAGD and SA-SAGD projects with an array of leading oil sands producers.
Engineering manager Shane Torwalt comments on the Vista approach: "SA-SAGD designs include recovery and recycling of the solvent so that it's not lost from the system. Just as we design our plants to recycle as much water as possible (to be injected down-hole as steam), our solvent-assisted designs also recycle injected solvent once it returns to the surface with the produced emulsion."
Torwalt continues, "Typically, we establish a solvent and steam re-use factor (SSRF) for our design and then shape our engineering decisions around meeting or exceeding that number. Our goal is to achieve the highest possible SSRF while remaining mindful of governmental regulations and our client's project economics."
Innovation Could Improve Economics
In addition to its environmental benefits, SA-SAGD could also improve the economic viability of oil sands projects. The process has been shown in the laboratory to boost bitumen production in comparison with standard SAGD operations. This could mean more barrels of oil produced for similar investments in infrastructure.
Reduced Need for Pipeline Capacity
Another potential benefit of SA-SAGD is that the oil it produces is less viscous than bitumen produced without solvents. This is significant because, at present, most oil sands producers need to blend their bitumen with a diluent before pipelines can carry it. This means the pipelines end up carrying less bitumen than they could be. Limited pipeline capacity is currently a major choke-point for getting oil sands products to market.
Processes similar to SA-SAGD can produce a pipeline-ready oil. This would remove the need for diluent blending and significantly increase pipeline capacity.
Read More
To read the full article, visit the Financial Post's website.