Before reviewing how to draw a piping and instrumentation diagram (P&ID), let's review a couple of key concepts.
A P&ID is an important engineering document that shows the interconnection of process equipment and instrumentation to control the design system. P&IDs provide the primary schematic drawing used for detailed engineering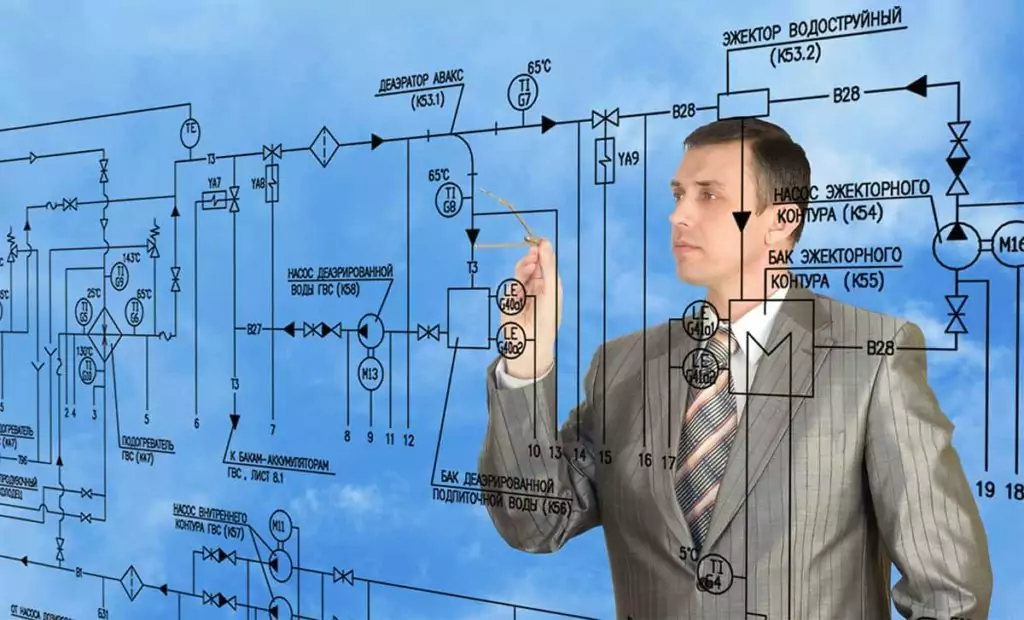 P&ID Symbols
Creating a P&ID requires an in-depth understanding of the engineering design and the required symbols. P&ID symbols are a standard set of symbols used to represent components in a system.
The symbol used to draw a P&ID can vary by industry, project, and client. Typically, the engineering team will define a symbol library to be used on the project. Our comprehensive collection of common P&ID symbols is a good place to start studying engineering symbology.
How to Draw a Piping & Instrumentation Diagram
A piping and instrumentation diagram is drawn up at the design stage of a process to model the system.
It consists of a combination of the process flow datasheet, the mechanical equipment design, and the instrumentation engineering design.
Diagrams can range in complexity and either be hand-drawn or created using specialty software. Once the initial P&ID is complete, we like to use Bluebeam Revu for P&ID markups during online engineering squad checks.
Total Time Needed: 10 days
Tools Required
– A Computer
– Internet Connection
– Appropriate Software
Knowledge Required
– A degree in Process Engineering or Chemical Engineering
– An understanding of P&ID symbols
Here are 8 steps to draw your own P&ID
Step 1: Define the scope of the system
Before drawing a P&ID, you need to understand the overall process? What does it achieve?
Step 2: Identify the inputs
Are they manual or automatic? Where are the inputs coming from and leading to?
Step 3: Identify the outputs
What is the end product? What do you need to achieve it?
Step 4: List all the equipment in the process
Think about the instrumentation, control devices, piping and equipment.
Step 5: Define the relationship between components
How do they interact? Are they compatible?
Step 6: Piece together your flow
Start either at the beginning or end of the process and work through it methodically. What happens next in the system?
Step 7: Add detail
Add pipe, component, and instrumentation details such as measurements and sizes.
Step 8: Review the process
Look out for bottlenecks and inefficiencies.
How to Markup a P&ID Drawing with Valve Symbols in Real-Time
In this remote engineering collaboration demo video, Scott Mussbacher, Systems Integration Lead with Vista Projects, shows how to mark-up a P&ID drawing with valve symbols in real-time.
Watch Demo Video
P&ID FAQs
What are piping & instrumentation diagrams (P&IDs)?
A piping and instrumentation diagram (P&ID) is a detailed engineering diagram indicating and depicting the relationship between piping, process equipment, instrumentation, and control devices. A P&ID is used to describe the overall engineering processes.
It shows the interconnection of process equipment and instrumentation to control the system, and provides the primary schematic drawing used for detailed engineering.
P&IDs can make up part of a process flow diagram (PFD), which indicates the general flow of a process and the relationship between major components and equipment.
In general, P&IDs are more detailed than PFDs, focusing on the instrumentation and measurements of devices.
How do I learn P&IDs?
P&ID diagrams are simple to pick up and read.
They commonly include mechanical equipment (i.e. pumps, compressors, heat exchangers, etc.), process piping sizes and identification, control instrumentation and designation (i.e. valves, vents, flanges, control inputs and outputs), interfaces for class changes, computer controlled systems and standardized components.
The piping information included on a P&ID is as follows:
– Pipe class and line numbers
– Flow direction
– Pipelines and flow lines
– Interconnection references
– Permanent start-up, flush and bypass lines
– Insulation and heat tracing
– Blinds and spectacle blinds
How to read P&IDs?
In order to read P&IDs you need familiarize yourself with standard symbols, common abbreviations and diagram basics.
To become familiar with standard symbols used for P&IDs and PFDs and gain access to a definitive guide click on the links respectively.
As well as standard symbols, common abbreviations are used in P&IDs. They are used to describe the function of a component.
Here's a table of common abbreviations:
Basic Process Control System Abbreviations
AE
Analyzer Element
PV
Control, Pressure Valve
BE
Burner Element
PCV
Self Regulating Valve
DT
Density Transmitter
PG
Pressure Gauge
EIV
Emergency Isolation Valve
PT
Pressure Transmitter
FV
Control Valve
SC
Local Speed Controller
FE
Flow Element
TV
Control, Temperature Valve
FFC
Flow Ratio Controller
TG
Temperature Gauge
GB
Status Indication
TE
Temperature Element
HS
Hand Switch
VE
Vibration Probe
HV
Control, Hand Valve
VS
Vibration Switch
I
DCS Logic Function
VT
Vibration Transmitter
IT
Current Transmitter
WT
Weigh Scale Transmitter
JT
Power Transmitter
XV
On/Off Valve
KS
Time Switch
XY
Solenoid Valve
LG
Level Gauge
ZSC
Positioned Closed Switch
LV
Control, Level Gauge
ZSO
Position Opened Switch
MOV
Motor Operated Valve
Instrumented Protective System/ Fire & Gas System Abbreviations
FZS
Flow Safety Switch
RV
Pressure Relief, Safety Valve
FZT
DP Safety XMTR
TZS
Temperature Safety Switch
HZS
Hand Safety Switch
TZT
Temperature Safety Transmitter
IZ
IPF Logic Safety Function
XZV
Shutdown Safety Valve
LZS
Level Safety Switch
XZY
Hart Safety Positioner
LZT
Level Safety Transmitter
XZY
Shutdown Safety Solenoid Valve
PDZT
DP Safety Transmitter
ZZSC
Position Closed Safety Switch
PSE
Safety Bursting Disk
ZZSO
Position Opened Safety Switch
PZS
Pressure Safety SW
ZZT
Position Safety Transmitter
PZT
Pressure Safety Transmitter
Power Supply Abbreviations
AS
Air Supply
HS
Hydraulic Supply
IA
Instrument Air
NS
Nitrogen Supply
PA
Plant Air
SS
Stream Supply
ES
Electrical Supply
WS
Water Supply
GS
Gas Supply
The shape of the symbol may also provide vital information on the process.
For circular symbols, the dividing line suggests the type of mounting used for the device.
Continuous dividing line – the instrument is suitable for control room mounting.
Dotted dividing line – the instrument is suitable for technical room mounting.
No dividing line – the instrument is suitable for field application.
Control Signals for components show their input and output – e.g. electrical or hydraulic signals.
They are depicted by the lines entering and leaving the component – e.g. a dashed or wavy line.
The arrows between components also show the direction of flow in the system.
Once you're familiar with the common symbols, abbreviations and diagram basics you can begin to understand the overall P&ID.
A typical method used to read a diagram is line tracing – following the line from the input to the output reading the components and measurements along the way.
You can grasp an understanding of the over system from all the processes within it.
What is a P&ID used for?
At the early stages of P&ID designs, the diagram provides a basis for the development of a system control scheme.
Through analysis and review – such as safety and operational investigation like hazard and operational studies – a system can be designed, determined and optimized to create an efficient system.
It's critical to demonstrate the physical sequence of equipment and systems prior to installation to fully understand how they connect.
After installation, P&IDs play a significant role in the maintenance and modification of the process after the initial build.
Once changes have been made to the process, they are red-penned onto the diagram to keep track of changes and the current plant design.
P&IDs are vital in enabling the development of:
– Start-up sequences of the system
– Safety and regulatory requirements
– Control and shut down schemes
– Operational understanding of the system
What is the Best P&ID Software?
There are a number of pieces of software available to create and design P&IDs, ranging in complexity, intuitiveness and professionalism.
Here are some of the top 5 software currently available and their benefits and drawbacks:
Software
Benefits
Drawbacks
1. E-Draw Max
– Easy to draw diagrams from scratch
– Plenty of template options
– Free online version
– Supports Windows, Mac, Linux and the Web
– The free online version contains watermarks on the diagrams
– Depending on use, licensing can be expensive
2. Lucid
– Plenty of template options
– Accessible and easy to use
– No desktop app
– Subscription fee
3. Smart Draw
– Similar interface to CAD
– Plenty of template options
– Free draw option available
– Complex to use
– Only available on Windows and the Web
– Depending on use can be expensive
4. Visual Paradigm
– Supports most operating systems
– Plenty of template options
– Free to trial
– Complex software not suitable for beginners
5. PROCAD P&ID
– Specialised CAD software for P&IDs
– Professional looking
– Library of standard symbols available
– Free to trial
– Tutorials available
– Available in both 2D and 3D
– Suitable for professionals
– No online version available and only supported by Windows
However, this is not a definitive guide, and there are a number of other software options for example AutoCAD.
In order to find the best software for your needs, have a look into the benefits and drawbacks as well as the overall functions of the software.
What does Process Flow mean?
Process flow is a term used to describe the general flow of plant process and the equipment used in chemical and process engineering, often depicted through a diagram.
A process flow diagram shows the relationship between major equipment used in a plant facility, omitting the minor details such as piping information and designations.
What is the difference between a P&ID and a PFD?
Both P&ID s and PFDs depict the relationship between components in a process.
A PFD outlines the general relationship between major components used to describe the overall process.
A P&ID is far more detailed – depicting a single process or loop – including further information of the components and measurements.
What is a Mechanical Flow Diagram?
A mechanical flow diagram is a flow diagram detailing the piping, flow rates and location of equipment in a process.
It's used to identify errors in a system, for example, preventing the location of rotating equipment downstream from a hot tap.
This ultimately prevents damage to components in a system.
What is a Hookup Diagram?
Hookup diagrams are also referred to as installation drawings.
They detail the typical installation of a process or field instrument in the correct manner, so that once fitted, it can operate properly and prevent adverse issues affecting the measurements, such as liquid trapped in a gas impulse measuring device.
A hookup diagram details the accessory and tubing hook up for instruments, including standard specifications for the welding of hookup piping, pressure testing, painting requirements, heat tracing and installation.
Hookup diagrams include:
– Instrument tag number
– Number(s) of the loop drawing
– Elevations of components
– Layout, routing and isometric piping drawings
– Direction of slopes in the hookup lines
– Tagging of mechanical to instrumentation interface
– Tagging of all elements, fittings and valves
– Accessories, such as mono flanges and double blocks, etc.
– Material take off with part numbers, number of fittings, material type, size, connection, and mounting type
– Weather shield and tubing specifications
What is a GA drawing in piping?
GA drawings are general arrangement drawings that indicate the locations of major equipment in the plant.
They indicate the main piping items like valves and fittings.
Often the piping shown in the diagram is depicted using the top-view, and in the case of a pipe rack being present, sometimes the side-view.
GA drawings can also be developed for individual equipment. These drawings detail the main dimensions, a 2D view of the components from a top and side view (and sometimes a front view).
All nozzles are also detailed in individual drawings.
Conclusion
In general, P&IDs show the relationship between instruments, piping, and equipment to describe an overall process.
They vary in complexity and can take many different forms, ranging from hand drawn to software drawn.
To draw a P&ID, there are 8 simple steps to help depict the process, involving the inputs, outputs and components of the system.
Remember to familiarize yourself with abbreviations, component codes and diagram basics before you start.
Engineering Consultation
Reach out if you need help solving an engineering challenge or configuring teams for remote collaboration.