Largescale Heavy Oil Processing Facility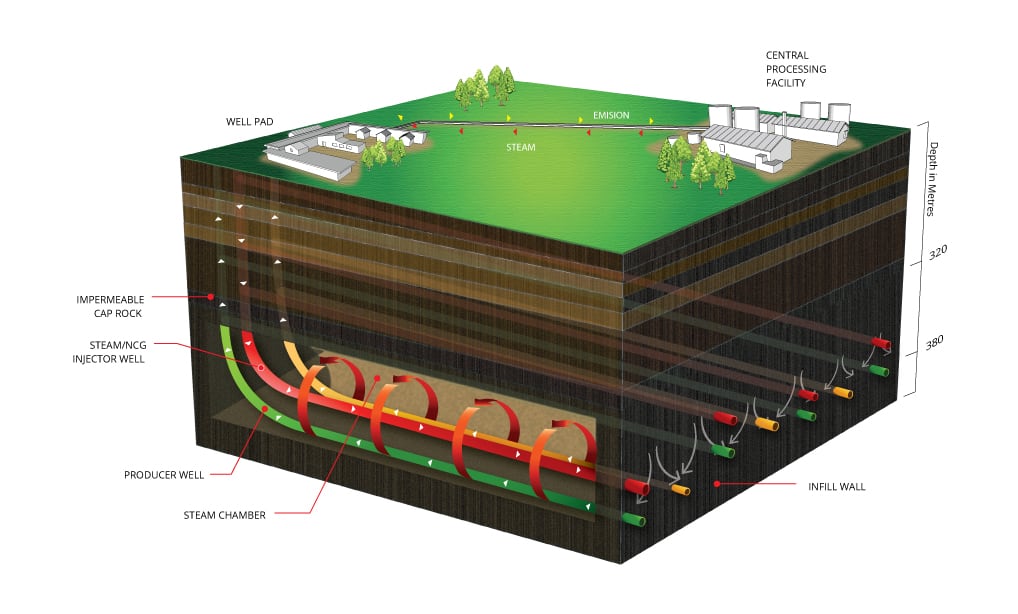 Vista's integrated engineering services included the detailed engineering design and procurement for a multi-phase heavy crude oil processing facility in northern Alberta.
Foster Creek is a largescale processing facility that uses in-situ steam-assisted gravity drainage (SAGD) technology to extract bitumen.
In the early 2000s, Cenovus, a well-positioned producer in Canada's oil sands region, was looking for a long-term engineering consulting partner to execute a vision of designing and constructing some of the more efficient in-situ central processing facilities in the industry. 
Working with a long-term client for more than 15 years, Vista engineered several greenfield expansion phases to a heavy crude oil processing facility, adding 270,000 barrels per day (BPD) of nameplate production capacity. 
The processing facility uses steam-assisted gravity drainage (SAGD) as its heavy oil extraction method.
Vista's work centered on expanding steam generation, oil treating, and produced water de-oiling, softening and recycle systems, as well as full utility services.
This facility is one of the most efficient bitumen extraction plants in the Alberta oilsands and operates with an exceptionally low steam-to-oil ratio.
Vista attributes the success of this ongoing client relationship to several factors.
By forming a lasting organizational commitment, we were able to establish dedicated multi-discipline engineering teams who shared a long-term vision and took a collaborative approach to continually reduce project costs. Using a templated design approach across phases, Vista focused on a continuous improvement model to optimize the use of modularization and reduce design hours without compromising engineering quality.
Heavy Crude Oil Processing Equipment & Technology
This SAGD processing plant includes over 20 once-through steam generators (OTSGs) and four heat recovery steam generators (HRSG) units to generate enough steam for injection. It also includes all other equipment required to process the produced emulsion, produced water and natural gas from the reservoir, including:
Oil/Water/Natural Gas separation: inlet degasser, free water knockouts (FWKOs) vessels and oil treaters, including associated chemical feed systems and a flash treating system for slop oil
Steam generation: OTSGs (250 million BTU/h), including boiler feedwater booster pumps and steam separators plus HRSGs (300 million BTU/h) that get waste heat via natural gas turbines
Power generation: two x 25 MW natural gas-fired turbines used as power generation units.
Raw brackish water softening
Produced water treatment via skim tanks, induced gas flotation (IGF) units, oil removal filters (ORFs), warm lime softeners (WLS) and ion exchange (IX) water softeners
Diluent handling, injection and recovery
Storage tanks for boiler feedwater, de-oiled water, recycled oil, sales oil with diluent
Utility systems, including vapour recovery units, fuel gas distribution, integrated heating glycol and cooling glycol heat medium systems
Energy efficiency design features, including:

A unique OTSG combustion air preheating design
Integrated glycol heating/cooling system to maximize energy recovery and reuse
Direct energy recovery from hot inlet emulsion, sales oil and produced water, as well as energy recovery from boiler blowdown
Recovery of low-pressure vapours from tanks and equipment by means of a vapour recovery unit for return to the fuel gas system
The engineering capabilities demonstrated on this heavy crude oil processing facility project are applicable in several industrial engineering markets.
Produced Water Treatment: oil and water gravity separation, oil removal via filtration, water pH control for disposal, water softening to facilitate recycling
Natural Gas Processing: natural gas sweetening (CO2 and H2S removal), natural gas dehydration (water removal)
Gas Compression: reciprocating compressors, screw compressors, eductor technology
Cogeneration: natural gas turbine technology for power generation, heat recovery steam generators (HRSG) technology for steam generation
Have a similar engineering need?
Contact us to learn how we can help your project.