Digital Engineering
Environments
About Digital Engineering Environments
Executing projects within a fully integrated digital engineering environment benefits everyone involved.
DATA ACCESSIBILITY ACCURACY SECURITY
These days, everyone wants to reduce project costs. At Vista, our approach is simple: cost reduction requires accurate information. There is no way around it.
In fact, our experience shows a direct relationship between data accuracy and cost reduction: as project data improves, the likelihood of reducing project costs increases.
One method of improving data is to execute projects in a fully integrated digital environment. That might sound complicated, but all it really means is we make it easy for people to save their work in a centralized online location that everyone else can securely access in a timely manner from anywhere with an internet connection.
Rather than storing documents in a cumbersome document control system, a digital engineering environmentA digital engineering environment is the part of a digital project hub that encompasses the various software applications required for engi… provides a 3D model fully integrated with smart P&IDs and PFDs linked to every piece of facility data down to the construction work package. And it can be maintained throughout the facility's lifecycle. This streamlines everyone's job, whether you're an owner looking for audit information, a project manager needing a status update or an operations team member hunting for a datasheet.
We've found that having access to accurate information makes everyone more efficient, compresses schedules and leads to substantial cost reduction.
Read on to learn how our approach can save you time, money and effort.
Background on industrial digitalization
Proven Technology
Integrated engineering in a digital environment is not a new concept; it's just new to oil & gas. The digitalization of production processes has led to greater efficiencies in industries such as manufacturing and defense for many years. However, for a variety of reasons, oil and gas facility owners have been slow to adopt similar technology.
The diagram below provides additional information on how other industries benefit from digitization.
Digitization Maturity by Industry
Click on the photos below to learn more about each industry.
Oil & Gas

Manufacturing

Defense / Aerospace
The energy market is known to be volatile. But when commodity prices are high, profits are large and there is little incentive to invest in cost reduction technologies.
The manufacturing industry has low margins. And when an operation's profitability depends on its ability to produce better, cheaper and faster, its willingness to explore new technologies is higher.
A digital production environment provides manufacturers with the visibility and accuracy they need to reduce waste and limit costly rework.
Historically, this industry has been an early adopter of new technologies. For example, the earliest form of the internet began as military project in the 1980s.
Due to the current economic conditions in Western Canada, oil production companies are now more willing to explore cost-saving techniques. Working collaboratively with our clients, Vista completed the oil sands industry's largest and most comprehensive implementation of a digital engineering environment. Results from the FEED phase were impressive and these techniques are expected to generate greater efficiencies in later project phases.
Principal and Project Manager, Patrick Reilly, has presented on Vista's implementation of a digital engineering environment using AVEVA's Integrated Engineering and Design (IE&D) solution at multiple industry conferences. Patrick's presentation examines the challenges and benefits of the approach from the perspective of an engineering, procurement and project management firm.
If you wish to learn more, please contact us to schedule a presentation for your organization.
Full System Integration (Greenfield Project)
Digital engineering environments present various opportunities to reduce project costs, and they all relate to enhanced system integration. When everyone has real-time access to the work produced by others, they execute day-to-day tasks more efficiently and make decisions based on more accurate information. We've identified the following main cost reduction areas for a greenfield facility project:
Increased data accuracy and security
Improved client collaboration
Enhanced cross-function integration
Reduced handover costs
Streamlined design and fabrication integration
Execution Ecosystem Overview
A key to successfully executing a project digitally having a proper execution system architecture, including its online document management software. The architecture incorporates all of the project's required internal tools and a variety of third-party vendor applications.
When correctly set up, the system architecture seamlessly integrates vendor data, which supports a variety of industry-standard file formats and data structures.
Stakeholders at all project phases benefit from this integration. Early advantages include access to design information as it progresses, and a convenient "one-stop shop" for all project deliverables. Value is added during execution and construction phases by making comprehensive, reliable information available in the field. Operations and maintenance also benefit from improved as-built drawings, simplified monitoring, faster access to site data and innumerable other impacts.
Compressed Engineering Schedule
Traditional vs. Integrated
A digital project environment enables an integrated engineeringThe process of integrated engineering involves multiple engineering disciplines working in conjunction with other project disciplines to e… approach in which disciplines overlap their work and compress the schedule.
Traditional Project Execution Timeline

Integrated Project Execution Timeline

Integrated Engineering Workflow
Vista takes an "agnostic" approach to technology, which means we evaluate all options and move forward with the one that best fits the client's and the project's needs.
The diagram below shows a complete integration using the AVEVA platform. AVEVA NET Dashboard is information management software used for visualizing and linking data and documents.
The platform consolidates project data from multiple sources and makes it available in a common location. The system also performs validation, comparison, business logic checking and similar functions.
The data available in AVEVA is near-live. The platform cross-references and links all related data items the moment data it's uploaded, based on the project configuration. AVEVA maintains system, subsystem and tag relationships in line with system boundary drawings.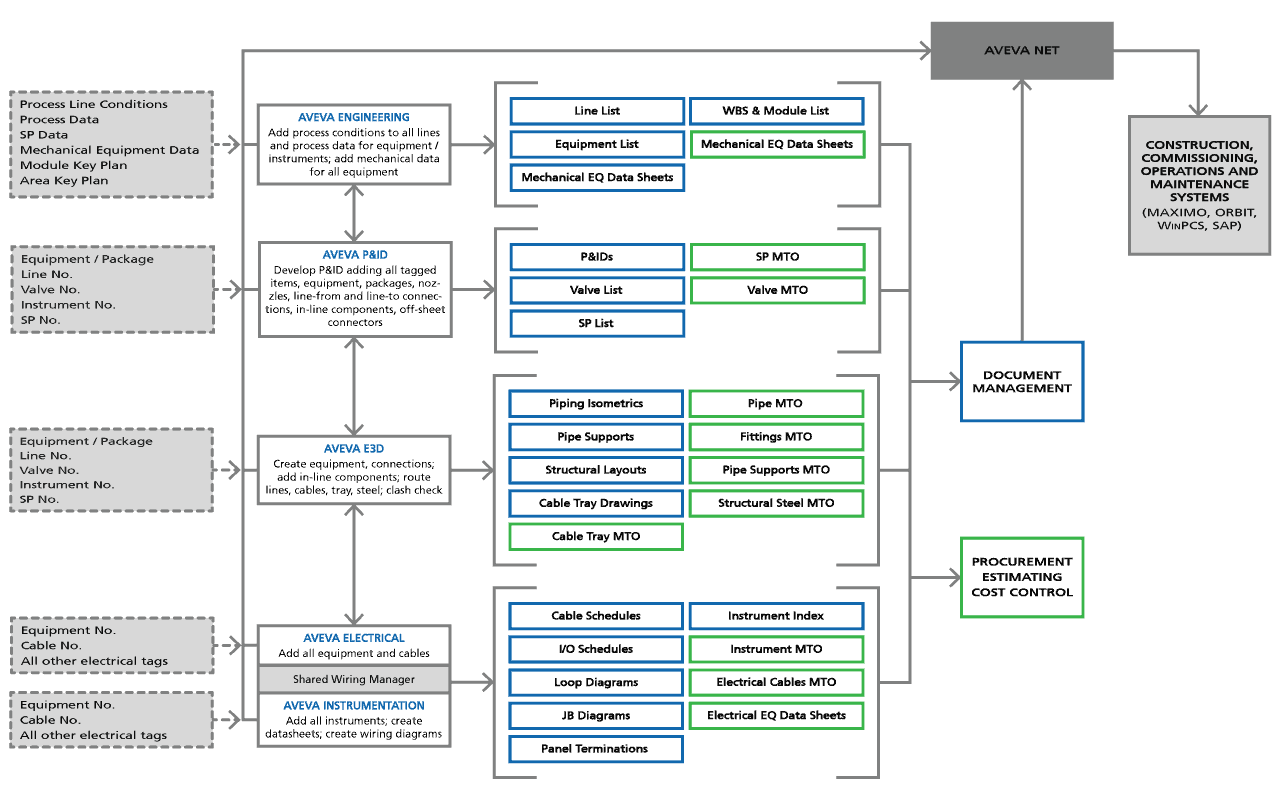 Download our brochure or read the related posts below to learn more about Data-Centric Execution Architecture.