Calgary-based engineering firm wins Canada's Best Managed Companies program for fourth year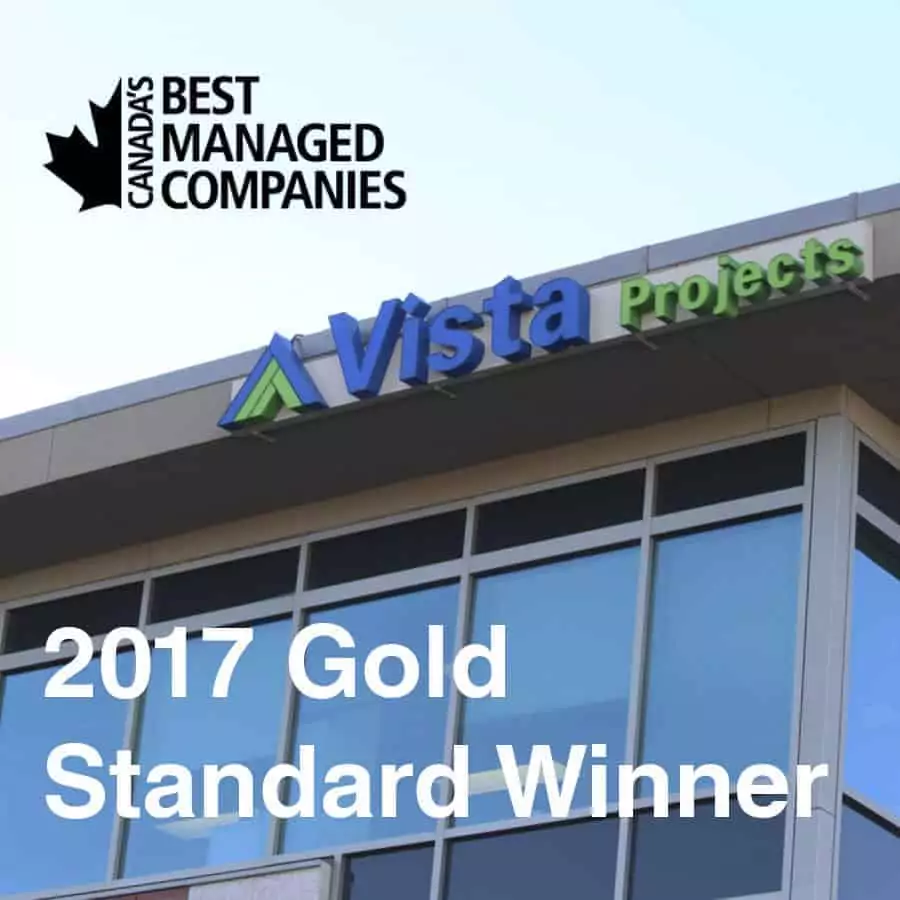 March 9, 2017 (Calgary, AB) – Vista Projects Limited (Vista), a privately-owned, Calgary-based oil and gas engineering, procurement and project management firm, was announced today as a 2017 winner of Canada's Best Managed Companies program. Vista won its initial Best Managed award in 2013 and has successfully retained its status, becoming a Gold Standard winner in 2017.
"Best Managed companies deserve recognition for their entrepreneurial approach to excelling in an uncertain economic climate. They truly bring out the best in Canadian business leadership," said Lorrie King, Partner, Deloitte and Co-Leader, Canada's Best Managed Companies program.
"Becoming a Best Managed Gold Standard winner in 2017 is a great achievement for Vista," commented Chief Executive Officer, Bashar Hussien. "We've worked hard to implement market-appropriate measures and strengthen Vista's position coming out of the worst industry downturn. This recognition is an endorsement of our efforts."
In its latest Best Managed Companies application, Vista highlighted adjustments made to remain competitive and independently-owned in an energy industry severely impacted by an ongoing economic downturn. Most notably, Vista successfully implemented processes to establish a leadership position around data-centricA data-centric outlook is a core concept in digital project execution architecture where data is viewed as the most important and perpetual ... engineering and digitized workflows.
"Our pivot to a digital execution approach has led to significant cost savings for clients – measured based on $ invested per barrel – and given us a viable new product," explained Hussien. "It's one example of how we're working with clients to find innovative solutions that will make this industry great again."
The program will honour Vista at the annual Best Managed Companies gala in Toronto on April 19.
About Vista Projects
Vista Projects is an engineering, procurement and project management firm focused on Western Canada's oil and gas markets. Known for engineering industry-leading facilities and managing projects with a digitized execution approach, Vista's experienced team is committed to delivering high quality, cost-effective designs. Vista has engineered more than one third of Alberta's total SAGD production, working on some of the most successful projects in the Alberta oil sands and earning its reputation as a trusted partner to its clients. For more information, visit www.vistaprojects.com.
About Canada's Best Managed Companies
Canada's Best Managed Companies continues to be the mark of excellence for Canadian-owned and managed companies with revenues over $15 million. Every year since the launch of the program in 1993, hundreds of entrepreneurial companies have competed for this designation in a rigorous and independent process that evaluates their management skills and practices. The awards are granted on four levels:
Canada's Best Managed Companies new winner (one of the new winners selected each year);
Canada's Best Managed Companies winner (award recipients that have re-applied and successfully retained their Best Managed designation for two additional years, subject to annual operational and financial review);
Gold Standard winner (After three consecutive years of maintaining their Best Managed status, these winners have demonstrated their commitment to the program and successfully retained their award for 4-6 consecutive years);
Platinum Club member (Winners that have maintained their Best Managed status for seven years or more).
Program sponsors are Deloitte, CIBC, Canadian Business, Smith School of Business and MacKay CEO Forums. For further information, visit www.bestmanagedcompanies.ca.