Calgary-based engineering firm wins Canada's Best Managed Companies program for third year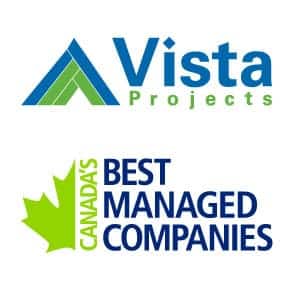 March 9, 2016 (Calgary, AB) – Vista Projects Limited (Vista), a privately-owned, Calgary-based oil and gas engineering and procurement firm, was recognized today as a 2015 winner of Canada's Best Managed Companies program. This marks Vista's third consecutive year as a Best Managed Company winner, a prestigious national awards program administered by Deloitte and CIBC for which hundreds of companies compete each year.
"CIBC celebrates the 2015 winners of Canada's Best Managed Companies, who have each demonstrated the highest level of business excellence," says Jon Hountalas, Executive Vice-President, Business and Corporate Banking, CIBC. "This year's winners reinforce the significant impact that private companies make here in Canada by pursuing innovation and investing in meeting the needs of their clients."
In its latest application, Vista outlined the innovative ways it helps clients reduce costs to weather the industry's current economic downturn.
Vista's Chief Executive Officer Bashar Hussien commented, "Being recognized by this program for a third year in a row is a testament to our commitment to our clients, our people and our industry. Vista is a proud Canadian company focused on the oil and gas sector. We face the same market challenges as our clients and are dedicated to increasing project viability through innovation. I want our clients to rest assured that everyone at Vista is committed to adapting to the market. Together, we will make our industry great again."
The program will honour Vista at the annual Best Managed Companies gala in Toronto on April 12.
About Vista Projects
Vista Projects is an engineering and procurement (EP) firm focused on Western Canada's oil and gas markets. Known for engineering industry-leading facilities, Vista's experienced team of professionals is committed to delivering high quality, cost-effective designs. Vista has engineered more than one third of Alberta's total SAGD production, working on some of the most successful projects in the Alberta oil sands and earning its reputation as a trusted partner to its clients. For more information, visit www.vistaprojects.com.
About Canada's Best Managed Companies
Canada's Best Managed Companies continues to be the mark of excellence for Canadian-owned and managed companies with revenues over $10 million. Every year since the launch of the program in 1993, hundreds of entrepreneurial companies have competed for this designation in a rigorous and independent process that evaluates their management skills and practices. For further information, visit www.bestmanagedcompanies.ca.
Media Enquiries:
Adam Singfield
Phone: (403) 258-4085
Email: adam.singfield@vistaprojects.com