In honour of our 30th year in business, Vista Projects donated $30,000 to the Calgary Food Bank as part of the 30th annual CBC Calgary Suncor Energy Food Bank Drive.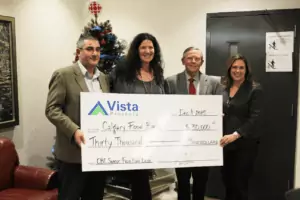 In a world-class city like Calgary, no one should go without food, yet in 2014, one in eleven Calgarians went to the food bank for help. Every $1 donated allows the Calgary Food Bank to distribute $5 worth of food. Vista's donation will provide over 30,000 meals for Calgarians in need.
"While it has certainly been a challenging year for our industry," says Vista's CEO Bashar Hussein, "Vista's leadership team feels it is important to be grateful for all that we have and to help those who need it most."
"I'm extremely proud to work for Vista, an organization focused on making a difference in our community and in our industry. We look forward to continuing the tradition for another 30 years."
The following audio clip is a recording of the cheque presentation on CBC Radio's The Homestretch.