On August 31 Vista staff had the opportunity to pedal a 30-seat bike approximately two kilometres around the Mountain View campus in support of the Heart and Stroke Foundation. The ride marked Vista's fifth year taking part in the Big Bike Challenge.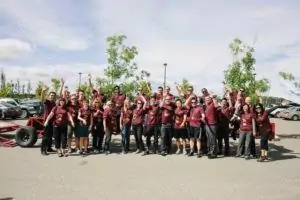 This year, team Vista raised $2,794 in support of heart disease and stroke research. A big thank-you to all of our fundraisers and contributors and congratulations to our top 3 fundraisers: Jessica Rayburn, Cristina Baciu and Steve Byers! Your fundraising efforts and generous contributions go a long way in supporting life-saving research.
Funds raised go towards empowering Canadians to make positive changes and prevent disease, saving lives by educating people on how to recognize the signs and symptoms of heart disease and stroke, and promoting recovery where and when it's needed.
For more information on the Heart & Stroke Foundation's BIG BIKE, click here.
Vista's 2012 Big Bike Video