Fraudulent employment offers are on the rise, thanks largely to the anonymity that the internet offers. The spurious agents who make such offers do so in the name of reputable recruiters and companies, even engineering services firms.
It's possible that someone may even make such offers claiming to represent Vista Projects. Typically, these types of fake offers involve a request for money from the candidate based on the promise of a job. Sometimes, the request may come with the addendum of another request – this one for your bank account information.
How to Identify Fake Job Offers – the SCAM Check
The rising instances of fraudulent job offers make it a poignant time to learn how you could recognize and avoid becoming victims of fallacious job offers. Since most of these offers are made through emails, performing a SCAM Check would be a decent way to tackle the problem.
SCAM Check is explained in more detail below.
S- Sender's email
A common phishing tactic used by cybercriminals involves spoofing the display name in the sent email. Typically, the spoofed display name used will be that of a recognizable brand. And because only the username is displayed in most mail client inboxes, an unsuspecting receiver has no reason to distrust the fraudulent email as it will appear to be perfectly legitimate.
A handy general rule is to never trust the display name if it appears unfamiliar. Always check the email address of the sender in addition to checking the display name.
If it looks suspicious, it probably is – don't open the email. Another important consideration is embedded links in the email body. If the links appear to be suspicious or weird, don't click on them. To test a link of this kind, it is best to directly type the website address in a browser window. This would help to circumvent hidden tracking or redirect codes.
C- Confidential information
Communication from banks, credit card companies, and other financial institutions are commonly used in phishing scams by cybercriminals. Always ignore an email that asks for any confidential information such as your credit card details, bank account, or your social insurance or social security number. You really should not submit this information in via email anyhow – instead, try to provide the required information over the phone if you trust the person.
Any legitimate bank or financial institution will never use email to ask for personal credentials. All banks and institutions dealing in any kind of financial transactions should have clearly defined and instituted policies against asking for personal information via emails. The same can be said about legitimate employers. For example, no one at Vista would ask a candidate to provide financial information prior to meeting in person.
It is better to be extremely skeptical about these kinds of emails than to be caught off-guard.
A- Addressee
A common trait of email scammers is that they send in bulk and don't always have a name to go with the email. This creates another red flag opportunity for you to check.
Pay special attention to any email that includes a generic or open-ended greeting, particularly if you don't recognize the sender. Examples to watch out for:
"Dear Sir/Madam"
"Valued Customer"
"To whom it may concern"
"Hey/Hi There"
Legitimate businesses use personal greetings and salutations which will typically include your first and/or last name.
If the name used is indeed yours, however, and it has been misspelled, don't be in a hurry to respond or click on the mail as this could be a sign that the sender doesn't know you. We recommend checking for details in the sender's email signature; if the email does not include any information that helps to validate the person's identity or if it does not provide contact details of the company/sender, it could easily be a phishing scam.
M- Message
Check for spelling errors and/or grammatical inconsistencies in the email. Legitimate businesses take communications with clients or consumers very seriously, appropriately recognizing them as representations of their brand. The odd typo aside, professional communications will not typically have major spelling or grammatical errors.
A tool of choice with many internet scammers is Google translate. Messages crafted this way will include errors in spelling and possibly in sentence structure as well. Another common tactic employed by scammers is the use of clickbait in subject lines or messages. These are phrases designed to invoke a sense of urgency or fear, such as "unauthorized login attempted," or "your account has been suspended." The use of ALL CAPS is another tactic that could be a dubious sign of false intentions.
Remember the SCAM Check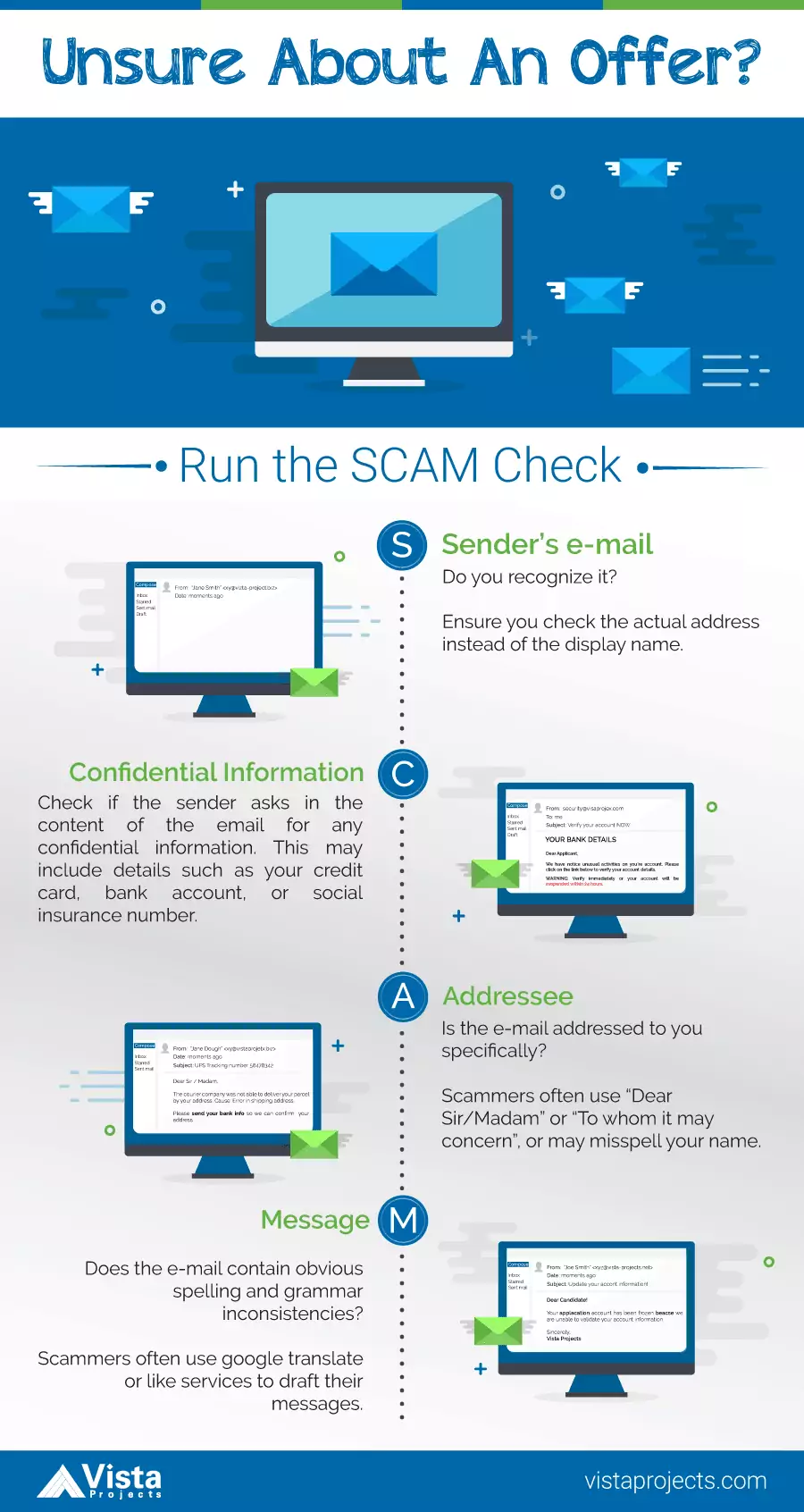 If you feel suspicious after having done a SCAM Check on an email, you could do a Google search with the name of the sender or company along with keywords like "fraud" or "scam." Chances are high that someone else might have been defrauded by the same party before, and reports of the same could show up in the search results.
Vista's Recruitment Process
To ensure we receive the best candidates, and also to make sure that candidates interact directly with Vista representatives, we follow a multi-step recruitment process involving different personnel. If you somehow receive a job offer from Vista without completing this process, it is most likely fraudulent.
1. The job applications to Vista are received through our careers portal. This ensures that all the applications are routed directly to our hiring managers.
2. As the second step, selected candidates are invited to take part in a video interview for the position.
3. The candidates shortlisted from video interviews are sent a technical skills test they should undertake. This is to assess their extent of knowledge in their particular area of expertise.
4. Based on the results of the technical test, successful candidates are invited for an in-person interview. This interview would be with the hiring manager, in the presence of a human resources representative.
5. The shortlisted candidates from the fourth step would make it to the fifth and final step – which is to meet our CEO. The interaction with our CEO is largely to assess if the candidate is a solid cultural fit for Vista.
Things to know about job communications from Vista Projects
With regard to fraudulent or fake job offers, the following are some of the key things you should know about Vista:
We never ask for money from prospective candidates. Neither do we request bank account details until a new employee begins to work.
We don't ask candidates for their credit score.
We never instruct a candidate to undertake paid training during the recruitment process.
Apart from salary expectations and past experience, we never ask for a candidate's confidential information.
We never extend an offer of employment without the authorized company representative(s) meeting the candidate in person.
Typical Warning Signs for Fake Job Offers
There are a few common warning signs with fraudulent job offers which you should be wary of. Some of the most common are listed here:
If the offer sounds too good to be true, it's probably fake. Typical examples include an inordinately high compensation offer compared to the industry standards or offering the job right away without any in-person interview.
If the job description in the email sounds too vague, it's a warning sign. In genuine communication, the job description would be rather descriptive, often listing the different responsibilities point by point. Communication about fake job offers typically gloss over the description – often mentioning just the designation – and focuses more on the purported salary and perks that you would receive. Check out our future job opportunities for examples of what a job posting with Vista would look like.
For some reason, online scammers seem to have an affinity for Yahoo Instant Messenger (IM). Many of the fake job offers online that mention an interview would happen over Yahoo IM. The use of this particular application, of course, doesn't necessarily mean it's a scam. But there's a decent chance it could be. So, if you receive a communication of this kind, please do a background check about the company in question.
Another warning sign is if the email that you receive doesn't contain any contact address – as in a physical mailing address, office, cell, and/or fax number. Also, if the job offer seems to have come from someone's personal email ID, the chances of this job being real are not looking too strong.
So, keep these warning signs in mind the next time you come across an online job offer. And stay safe out there!
Help Vista Prevent Fraud
If you receive an email or any other mode of communication from someone claiming to represent Vista Projects with information contrary to what's mentioned above, please forward the communication to hr@vistaprojects.com so that we may verify the authenticity of the email.