Vista Projects to present at WHOC on success of integrated engineeringThe process of integrated engineering involves multiple engineering disciplines working in conjunction with other project disciplines to e... in a digital environment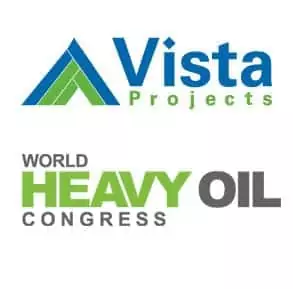 July 22, 2016 (Calgary, AB) – Vista Projects Limited (Vista), an employee-owned, Calgary-based energy engineering, procurement and project management firm, announced today that principal and project manager Patrick Reilly will present at the World Heavy Oil Congress (WHOC) on September 8, 2016. The technical presentation, titled "Cost Reduction through Integrated Engineering in a Digital Environment", will review how Vista successfully completed the oil sands industry's largest and most comprehensive implementation of a digital engineering environmentA digital engineering environment is the part of a digital project hub that encompasses the various software applications required for engi....
Taking place at Calgary's Stampede Park, the 30-minute presentation includes an overview of the results achieved on a recent front-end engineering design (FEED) project. The audience will also see a walk-through demonstration of a simulated digital engineering environment.
Vista and the client team worked collaboratively to reduce costs through process simplification, plot plan compression, fit-for-purpose specifications and increased modularization, and identified an opportunity to optimize project execution through integrated engineering in a digital environment, powered by the AVEVA IE&D solution. With the FEED phase ending this quarter, Vista expects to complete the project 16% under budget.
"The efficiencies are greater than we anticipated," says Reilly. "It's amazing to see how a fully integrated digital engineering environment can optimize a project's daily activities. The cost savings have really snowballed. We're excited to see the impacts on later project phases."
2016 marks the eighth World Heavy Oil Congress and the first time the event is held in Calgary. Running September 6 through 9, the event brings together the brightest minds from around the world to share the latest business and technological advancements and insights to provide powerful tools to the industry. To learn more, visit www.worldheavyoilcongress.com.
About Vista Projects
Vista Projects is an engineering, procurement and project management firm focused on Western Canada's oil and gas markets. Known for engineering industry-leading facilities, Vista's experienced team is committed to delivering high quality, cost-effective designs. Vista has engineered more than one third of Alberta's total SAGD production, working on some of the most successful projects in the Alberta oil sands and earning its reputation as a trusted partner to its clients. For more information, visit www.vistaprojects.com.
Media Enquiries:
Adam Singfield
Phone: (403) 258-4085
Email: adam.singfield@vistaprojects.com