The Alberta BMX Provincial races turned out to be an exciting for Vista sponsored Max and Igor Ganakovsky.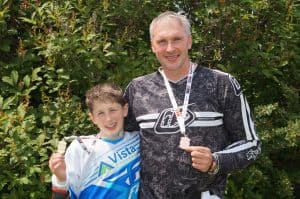 A new addition to the expert class in Alberta – the highest class for amateur BMX racers – 11 year old Max won two of the three qualifying motos, but crashed out in the finals, leaving him in 8th place for the day. Day two also resulted in Max winning two of the three qualifying rounds, and his winning streak carried on to the day two finals with a first place finish.
Max's dad, Vista Mechanical Engineer Igor Ganakovsky, finished third in each of the qualifying motos on day one, placing fourth in the finals. On day two, Igor placed third, second, and first in each of the qualifying rounds, with a third place finish in the finals.
Congratulations, Igor and Max!
For more information on BMX racing in Alberta click here.