Canada is known as a progressive country that is not just leading the way in sectors like education, quality of life, political stability, and more, but also looking to the future of energy supply and technologies in a world that is quickly veering off its climatic equilibrium.
To find out what Canada is doing in terms of renewable energy, we must look at where things are in the present, what's projected for the future, the opportunities presented, and some of the hurdles to jump over in the pursuit of a greener country.

Canada's Present Energy Supply
Canada is a world leader in using clean, renewable energy resources. Hydro, solar, wind, and other biomass, geothermal, and tidal wave energy accounted for around 65% of total power generation in 2019.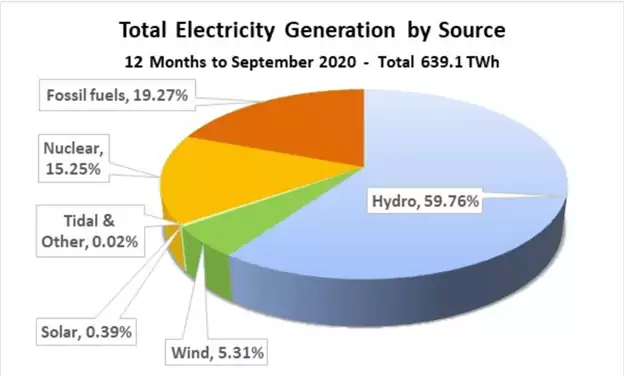 Hydropower has long been Canada's primary source of energy, supplying over 60% of the country's electricity. According to the Canada Energy Regulator, new renewable sources such as wind, solar, tidal waves, and others will account for 12% of overall power output by 2035.
The Canadian government has established a national target of achieving net-zero emissions across all sectors by 2050. A mix of measures will be required to meet those climate targets. All this begs the question, what is Canada's renewable energy infrastructure's true potential?
Answers are being sought by industry organizations such as the Canadian Renewable Energy Association.
Canada's Shifting Relationship With Energy
Compared to other wealthy countries, Canada has been slow to shift to renewable energy due to its vast oil, gas, and coal reserves.
Hydropower is a divisive sustainable energy source because of its considerable environmental and social consequences in Canada. Due to Canada's abundant hydro and hydrocarbon resources, many provinces have underperformed in promoting alternative renewable resources with smaller carbon footprints, such as solar, river hydropower, tidal, wind, and geothermal.
It is worth noting that Canada has the third-largest oil reserves globally and is projected to extract more barrels per day by 2030. There are some tough questions to answer regarding what that much oil means for Canada's future, many of which cannot be answered in a brief overview like this one, however, there have been some notable developments, particularly in Eastern Canada and Atlantic Canada.
The provinces and territories in Canada have control over their electric energy networks, and they are all exploring renewable energy sources. Hydropower accounts for 98% of energy generation in Quebec, and 89% to 95% of electricity output in British Columbia, Manitoba, Newfoundland and Labrador, Prince Edward Island, and Yukon.
The Opportunities
The green transition in Canada presents opportunities for everyone involved, starting with the end-users, the innovators, the government, the private sector, and more. Even though Canada's relationship with green energy is complicated, given the massive oil and coal resources it can already access and use, some groups suggest halting new fossil fuel infrastructure projects and shifting focus to empowering and funding a green economy.
Some of the often-cited opportunities include:
1.   Green Jobs
People will be needed to build the future of Canada's energy generation and delivery. That is where green jobs come in. Canada already stands out as a country with access to talent, given that it is the world's most educated country, where more than 59% of people aged 25 to 64 have a degree.
Over 2.8 million of them have a science, technology, engineering or math (STEM) degree, giving Canada the human resources to build the future electric grid. These people, including semi-skilled and skilled workers without degrees, can find new careers in the energy sector to help manufacture and install what's needed.
2.   Innovation
Taking the transition to a green economy seriously impacts the level of innovation a country can achieve. Canada is well placed to make the most of what it invests in developing new technologies and coming up with innovations intended to make the transition more efficient.
The already strong presence of STEM degrees in the country means that there is a basis for arguing that investments in the development of green technologies are almost guaranteed to see returns, especially in an environment that not only has qualified STEM human resources but is also willing to welcome immigrants with expertise to augment what is already available.
3.   Better Health
We know how harmful fossil fuels can be when burned to create electricity. The transition to cleaner energy sources, and fewer CO2 emissions, provide the foundation for improved health and wellness for Canadians. Not only does a healthier population experience better quality of life, but they are generally happier and less susceptible to adverse health conditions.
4.   Better Spending
According to research conducted by Oliver Wyman and CDP, a foundation that manages the world's top climate-related disclosure system, European firms are gaining considerable operating cost benefits from relatively small emissions reduction investments.
Companies were predicted to save $45 billion throughout 2019's investments in low-carbon initiatives like renewables and energy efficiency, translating to savings of $20 for each metric ton of carbon dioxide equivalent mitigated.
The United States is seeing similar results, where Fortune 500 corporations are saving $24 per metric ton, according to a 2017 study. Canada could join these leading economies in revolutionizing how it invests in its green projects to see the same benefits.
What Does This New Reality Look Like?
Across all industries, the low-carbon transition is generating the need for sustainable goods and services worth billions of dollars. The number of zero-emission cars on the road has increased dramatically, as has the number of innovative mobility options.
For example, the green economy in the United States is already valued at $1.3 trillion and increasing at a rate of over 20% per year. Companies have reported the multi-trillion-dollar potential climate-related market opportunities present.
It is clear then that Canada, like many of its peers on the world stage, can go all-in on its ambitions for a green economy, which will undoubtedly create new, sustainable and better-utilized value for its people, businesses, and government.
What will your role be?
Planning an energy transition project?
Vista Projects is an integrated engineering services firm able to assist with your energy transition projects. With offices in Calgary, Alberta, and Houston, Texas, we help clients with customized system integration and engineering consulting across all core disciplines.